Feeding your baby
At Hobart Private Hospital we encourage breast feeding on demand and 'rooming in', in accordance World Health Organisation recommendations. However, we always respect the right of mothers to determine how they wish to feed their baby.
We provide advice on nutrition for baby and recognise the importance of informed choice. We support you in whatever decision you make regarding feeding. We are both mother and baby friendly.
You'll have the opportunity to meet a Lactation Network Consultant either antenatally, during your hospital stay or once you go home and there may be an additional cost. The consultants provide you with personalised, individual education and support.
Our highly experienced midwives will also assist you with all aspects of feeding and post natal care.

Know Your Midwives Scheme
Some of our new mums will choose to take advantage of the Know Your Midwives scheme (KYM). This program offers mums-to-be the best in antenatal care through regular visits with the obstetrician and midwives at Hobart Private Maternity. This allows mums to form a relationship with both health care providers.

Private Dining
We don't do hospital food. Instead, you can expect wonderfully nourishing and delicious meals that will surprise and delight you.
We call our menu Private Dining because we're a private hospital, setting a scrumptious new standard in food. It's been designed by our talented Executive Chef John O'Shea, who's a whole foodie, who calls our patients, guests. He loves presenting an ever-changing menu of fresh, seasonal ingredients and plates that are a pleasure.
Working with nutritionists and with your recovery in mind, meals are prepared according to your body's demands throughout the day. Breakfast boosts metabolism and includes low-GI grains for lasting energy, lunch offers meals that are energising, while dinner is warm, nourishing comfort that will surprise and make you relax and smile.
From the simple elegance of Atlantic salmon farfalle to John's signature poke bowls and his delicate, more-ish desserts, this is 5-star care that's exclusively delicious, whatever your dietary needs.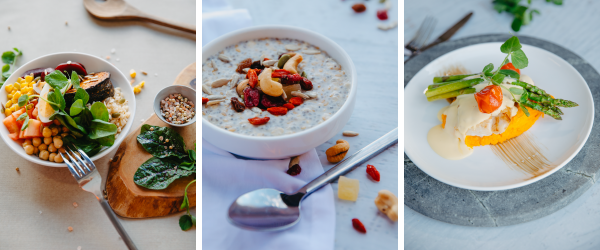 Cots
Cots are provided to transport your baby safely around the unit.

Newborn screening test
This test is performed on all babies born in Australia once they are 48 hours old. The procedure involves taking four spots of blood from either heel. The test detects metabolic disorders that, unless treated, can affect your baby's development. We'll give you a brochure before the test is completed and make sure you understand and give consent.

Hearing test
Tasmanian Infant Screening Hearing Test
The Tas Infant Screening Hearing Test program is offered to all babies and is a 10–20 minute test usually taken as soon as possible after birth. Your midwife will arrange the appointment. More information is available from trained hearing screeners.

Baby's ID
Babies are identified with two bands, placed around the wrist or ankle immediately after birth. Please don't remove these in hospital as these are required for security purposes. Please inform staff if name tags fall off or need replacing.

Blue Book
Your baby's Blue Book is given to you after the birth and needs to stay with baby during your hospital stay. That way, we can complete medical records prior to discharge. Your baby's growth, development, medical history, and immunisations will be recorded in the Blue Book. Please remember to take it with you to all of your baby's future health appointments.

Birth registration
During your stay, we'll give you the forms to register the birth of your baby and claim maternity allowance. It's essential you take these home with you as they cannot be redistributed.

Breast feeding your baby
For first time mums or mums who'd simply love a refresh, time with our lactation consultant is invaluable. You'll receive the very best advice, and have the answers to all your questions about feeding.

Personalised care board
You'll find a personalised care board in your room, used by us as another way to keep you and your family involved in your care. It's updated regularly by our health professionals. Please use it to jot down reminders and questions to ask your doctor or midwife.

Servicing your room
We aim for hotel standards in terms of cleanliness of your room. If you need towels changed, additional toiletries or the room cleaned, just let us know.

Wi-Fi
Wi-Fi is available throughout the hospital.

Pharmacy, pathology and radiology
We offer all of services on site. Fees for services are charged separately.