Welcome to Hobart Private Hospital Maternity
At Hobart Private, we recognise that each of our expectant mothers have different needs and expectations.

Every birth is unique and each journey is a personal one.
Our maternity team will work with you to understand your goals and provide the best possible care for you, your baby and your family.
You will have our support throughout the process, every step of the way.
We are dedicated to providing you with a personalised experience in a nurturing environment whilst offering a full range of services to support you through pregnancy, birth and into motherhood.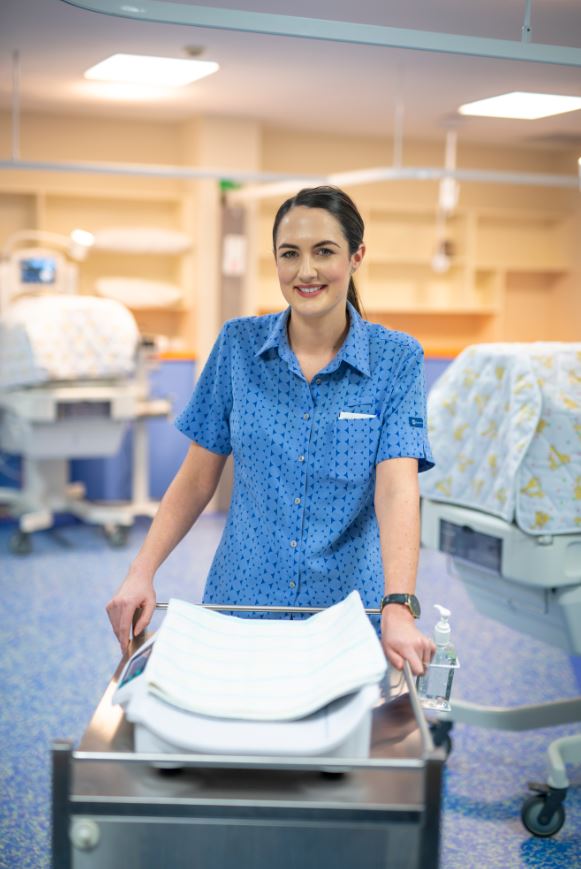 Our caring and highly skilled team of health professionals, including midwives, obstetricians and pediatricians, will work together to ensure that you have a safe and memorable experience.
We can provide support in so many ways:
A fully-equipped Special Care Nursery
Experienced, caring midwives and clinical staff
Modern surroundings, private rooms where your partner can share with you and your new baby
Paediatricians available 24 hours – referrals upon consultation with your obstetrician
Parent education at each stage of your pregnancy
Personalised booking Tours of the Maternity Unit
Preparation for Parenthood classes.
Our Maternity suites are designed on the contemporary labour/deliver/recover model and fitted with state-of-the-art technology, including K2 fetal monitoring
systems, and provide a variety of resources that can be used during childbirth including a bath for water immersion, birth balls, mats and stools.
Each of our suites have double beds so women can birth their babies and remain in the suite with their partner and baby. Partners are encouraged to stay the night to ease the transition into a new or extended parenting role at no extra cost.
We encourage your baby to stay with you at all times in these comfortable rooms.
The unit is secure and can only be accessed via swipe.Hobart Private Hospital Maternity Unit also includes the Special Care Nursery, Know Your Midwife Clinic, lactation room, lounge room and kitchenette for beverages and snacks.
If baby needs a higher level of care The Neonatal and Paediatric Intensive Care Unit at the Royal Hobart Hospital is adjacent to our facility and quickly accessible.
Simply ask your General Practitioner to refer you to a Hobart Private Hospital accredited obstetrician.
After you have booked an appointment with your obstetrician they will give you an online admission form to be filled out as soon as possible.
Once the online e-Admission is completed we ask that you give us a call on (03) 6214 3370 to arrange a pre-admission appointment with a midwife.
We also recommend that you contact your health fund to determine your insurance entitlements.
For more information please contact our Maternity Admissions Officer on (03) 6214 3370 or hph.maternity@healthscope.com.au
We would love you to come and meet us and have a tour through the unit:
Every Wednesday at 1.00pm for maximum of 5 couples
One Saturday per month at 2.30pm
Alternatively you can arrange an appointment for a tour by contacting the Unit on (03) 6214 3370.

Your stay